State of the Region 2017-2018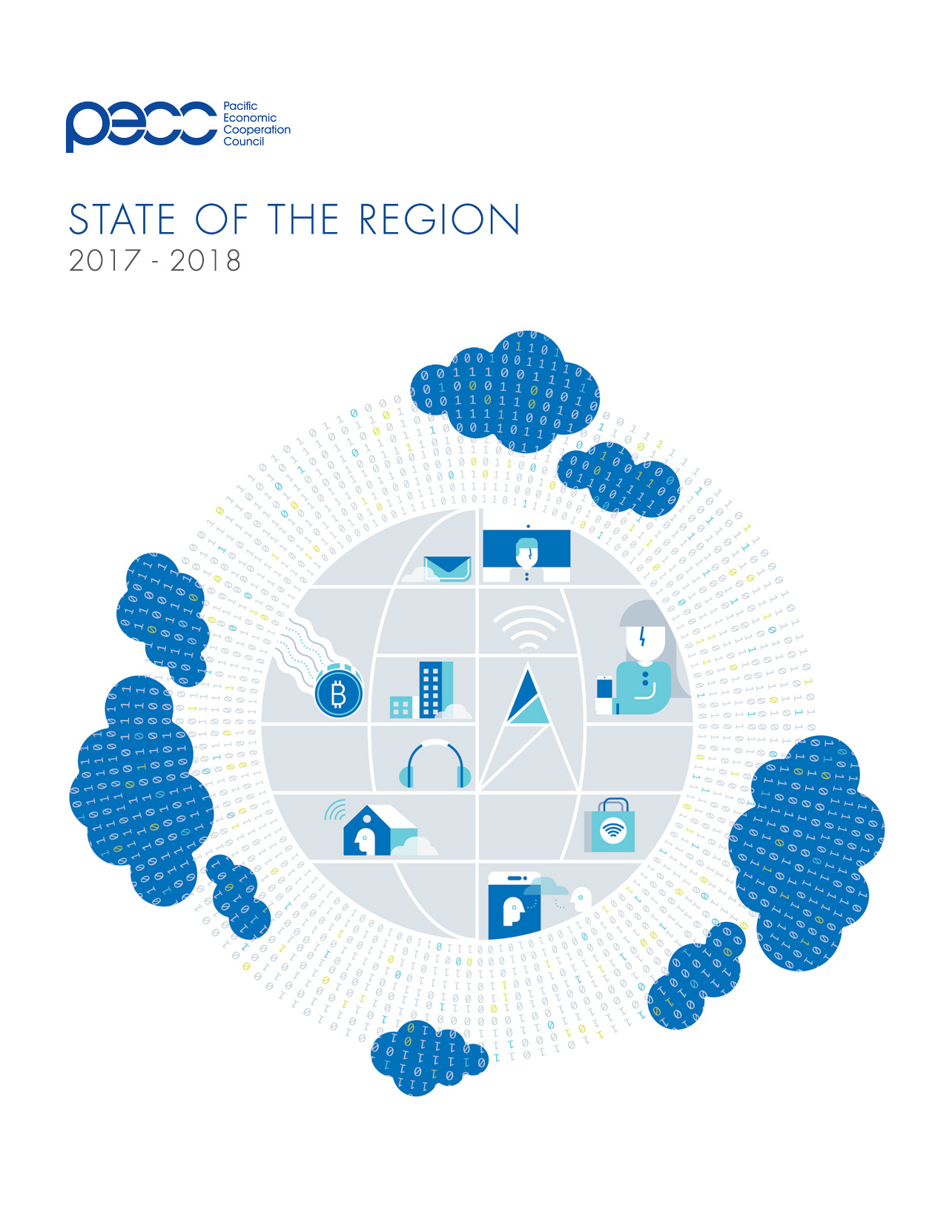 On behalf of the members of the Pacific Economic Cooperation Council (PECC), it is our pleasure to present our twelfth annual report on the State of the Region. This year we have chosen to focus on the internet and digital economy. In some respects, to qualify the term 'economy' with 'internet' and 'digital' is increasingly redundant. The adoption and embedding of the internet-based technology is becoming pervasive. The internet of things connects everything from crops to toothbrushes. The implications of this for growth, development and jobs are profound. We are likely to have to address these issues in different ways over the coming years.
Download:

State of the Region Report 2017-2018
CONTENT
I MESSAGE FROM THE CO-CHAIRS OF PECC
III CHAPTER 1: ASIA-PACIFIC ECONOMIC OUTLOOK
Figure 1.1: Asia-Pacific GDP Growth
Figure 1.2: Expectations for Global Growth
Figure 1.3: Expectations for Growth in Selected Regions
RISKS TO GROWTH
Figure 1.4: Top-5 Risks to Growth
Figure 1.5: Number and Type of Trade Restricting Measures Adopted by Asia-Pacific Economies
FEARS OF INCREASED PROTECTIONISM
Figure 1.5: Number and Type of Trade Restricting Measures Adopted by Asia-Pacific Economies
LACK OF POLITICAL LEADERSHIP
Figure 1.6: Lack of Political Leadership as a Risk to Growth
BOX 1.1 THE STATE OF PLAY OF REGIONAL ECONOMIC INTEGRATION INITIATIVES
Chart 1. Macroeconomic gains and sector adjustments
POSSIBLE SLOWDOWN IN WORLD TRADE GROWTH
Figure 1.7: Growth of Exports of Goods and Service
Figure 1.8: Growth of Imports of Goods and Services
Figure 1.9: GDP and Trade Volume Growth
Figure 1.10: Are GVCs Contracting?
Figure 1.11: Trade Value vs. Trade Volume
A SLOWDOWN IN THE CHINESE ECONOMY
FAILURE TO IMPLEMENT STRUCTURAL REFORMS
Figure 1.12: Failure to Implement Structural Reforms as Risk to Growth
Figure 1.13: Savings vs Investment in the Asia-Pacific
Figure 1.14: Asia-Pacific Infrastructure Needs 2016-2040 (US$ billions)
Figure 1.15: Investment in the Asia-Pacific Region (% of GDP, 2017 and 2020)
BOX 1.2 THE BELT AND ROAD INITIATIVE: A NEW FRONTIER FOR WIN-WIN COOPERATION
Injecting Impetus into World Economy
Development Opportunities for Participating Economies
Important Practice for a New Type of International Relations
PROSPECTS FOR FREER TRADE
Figure 1.16: Political Environment for Freer Trade and Investment
WHAT PROSPECTS FOR THE FTAAP?
Figure 1.17: When will the RCEP be completed?
Figure 1.18: When will the TPP 11 be completed?
Figure 1.19: Will the US Rejoin the TPP?
Figure 1.20: Likelihood of US Rejoining the TPP under a Different Name
PRIORITIES FOR THE APEC LEADERS' MEETING
Figure 1.21: Priorities for APEC Leaders' Meeting in Danang
BOX 1.3 INCLUSIVE GROWTH AGENDA FOR THE ASIA-PACIFIC REGION
Digital Economy
MSMEs
Women Empowerment
Jobs and Skills
IV CHAPTER 2: AN ASIA-PACIFIC AGENDA FOR THE DIGITAL ECONOMY
INTRODUCTION
DIGITIZATION: REDUCING FRICTIONS,INCREASING TENSIONS?
CHANGING BUSINESS MODELS?
INCLUSION
Figure 2.1: Asia-Pacific Cost of Internet Access (Mobile Broadband Price, % GNI per capita 1GB)
Figure 2.2: Average Internet Speed in the Asia-Pacific
Figure 2.3: Mobile and Electricity per capita for Selected Emerging Asia-Pacific Economies
DIGITAL ECONOMY AND JOBS
Figure 2.4: Impact of the Digital Economy on Jobs
EDUCATION
THE POLICY AGENDA
AN ASIA-PACIFIC AGENDA
Figure 2.5: Policy Priorities for the Digital Economy
INTERNATIONAL COOPERATION
CONCLUSION
V CHAPTER 3: INDEX OF ECONOMIC INTEGRATION IN THE ASIA-PACIFIC
Figure 3.1: Composite Index of Regional Economic Integration
Table 3.1: Weights Used Composite Index
Table 3.2: Comparison of 2013 and 2014 Indices
ASIA-PACIFIC TRADE FLOWS
Figure 3.2: Intraregional Trade Flows (% of GDP)
FOREIGN DIRECT INVESTMENT
Figure 3.3: Intraregional Flows of Foreign Direct Investment (%)
Figure 3.4: Intraregional Tourist Inflows (% of total)
TOURISM FLOWS
Figure 3.5: Convergence Index
CONVERGENCE INDEX
Figure 3.6: Deviation of GDP Per Capita
LESS DIVERGING INCOMES
Figure 3.7: GDP Per Capita Growth
Figure 3.8: Deviation Indicator: Urban Resident Ratio
Figure 3.9: Deviation Indicator: Share of Non-agriculture in GDP
Figure 3.10: Deviation Indicator: Expenditure on Education as a Proportion of GNI
Figure 3.11: Deviation Indicator: Life Expectancy
Table 1: GDP Growth
Table 2: CPI Inflation
Table 3: Growth of Exports of Goods and Service
Table 4: Growth of Imports of Goods and Services 2015 2016
Table 5: Current Account Balance (US$ billions

)

Table 6: GDP & CPI Weights
Table 7: Export Weights
Table 7: Import Weights
VII ANNEX B FOR CHAPTER 2: RESULTS OF ASIA-PACIFIC POLICY COMMUNITY SURVEY
GOVERNMENT
BUSINESS
NON-GOVERNMENT: RESEARCH COMMUNITY/CIVIL SOCIETY/MEDIA
RESPONDENT BREAKDOWN
BREAKDOWN OF RESPONDENTS BY SECTOR
BREAKDOWN OF RESPONDENTS BY SUB-REGION