State of the Region 2019-2020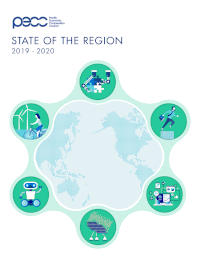 On behalf of the members of the Pacific Economic Cooperation Council (PECC), it is our pleasure to present our fourteenth annual report on the State of the Region. This year we have chosen to focus on the future of APEC. Next year, APEC will reach the milestone of 2020 – the deadline for the Bogor Goals of free and open trade and investment in the Asia-Pacific. In 2016, our Council established a task force to put forward recommendations for what a post-2020 vision for APEC might be.
Download:

State of the Region Report 2019-2020
CONTENT
I MESSAGE FROM THE CO-CHAIRS OF PECC
II EXPLANATION OF TERMS USED IN THE REPORT
IV CHAPTER 1: ASIA-PACIFIC ECONOMIC OUTLOOK
Figure 1.1: Expectations for Global Growth
Figure 1.2: Expectations for Selected Economies / Regions
Figure 1.3: Asia-Pacific GDP Growth
HOW BAD IS IT?
Figure 1.4: Expectations for Global Economy by Sub-Region
RISKS TO GROWTH
Figure 1.5: Risks to Growth
Figure 1.6: Equities vs Gold
Figure 1.7: Foreign Exchange Movements over past 24 months
Figure 1.8: Composition of Foreign Reserves
Figure 1.9: Foreign Exchange Reserves (months of imports)
IMPACT OF RISING PROTECTIONISM
Figure 1.10: Risks to Growth: Increased Protectionism
Figure 1.11: Breakdown of Increased Protectionism by Sub-Region
Figure 1.12: Top 20 Trade Restricting Measures Adopted by Asia-Pacific Economies since 2008
THE EXTERNAL SECTOR
Figure 1.13: Export Growth
Figure 1.14: Import Growth
NEED FOR FORWARD POLICY MOMENTUM
Figure 1.15: Government Revenue Less Government Expenditure (% of GDP)
LACK OF POLITICAL LEADERSHIP
Figure 1.16: General government gross debt in the Asia-Pacific
COMPLEMENTARY MEASURES TO STALLING GROWTH
Figure 1.17: Non-Financial Capex Growth
Figure 1.18: Sales of Foreign Affiliates
REVISITING THE APEC GROWTH STRATEGY
Figure 1.19: Estimated Change in Consumption Expenditure as a Share of GDP 2007-2017
Figure 1.20: Estimated Change in Government Expenditure as a Share of GDP 2007-2017
Figure 1.21: Estimated Change in Investment as a Share of GDP 2007-2017
Figure 1.22: Estimated Change in Net Exports as a Share of GDP 2007-2017
Figure 1.23: Current Account Balances (as a percent of GDP)
SUSTAINABLE GROWTH
Figure 1.24: Current Account Balance
Figure 1.25: Energy Intensity in the Asia Pacific
Figure 1.26: Sources of Energy Use in the Asia-Pacific
PRIORITIES FOR APEC LEADERS
Figure 1.27: Climate Change as a Priority for APEC Leader's Discussions
Figure 1.28: Priorities for APEC Leaders in Santiago
Figure 1.29: WTO and the Multilateral Trading System as a Top 5 Priority for APEC Leaders Discussions
V CHAPTER 2: APEC BEYOND 2020: WHAT LIES AHHEAD?
APEC'S STRATEGIC VALUE
DOES APEC STILL MATTER?
COSTS OF FRAGMENTATION
Figure 2.1: Scenarios for APEC in 2040
VISION BEYOND TRADE?
Figure 2.2 What should be the future emphasis for economic cooperation in the region?
ROBUST DIALOGUE CRITICAL FOR APEC
Figure 2.3: Areas of Focus for APEC
ACHIEVEMENT OF BOGOR GOALS
Figure 2.4: Sub-Regional Views on Importance of Intensified Efforts to Fully Achieve the Bogor Goals
SUSTAINABILLITY
Figure 2.5: Is sustainability is the greatest existential challenge facing humanity today?
Figure 2.6: How might APEC address issues of sustainability in its post-2020 work?
Figure 2.7: Cross-sectoral and sub-regional views on whether APEC members should commit to mutual review by its members of their individually determined climate change commitments
Figure 2.8: What can APEC do in support of the WTO and Multilateral Trading System?
SUPPORT FOR THE WTO AND MULTILATERAL TRADING SYSTEM
Figure 2.9: How important do you think each of the following are for APEC to address in order to promote people-oriented economic growth?
INCLUSION
Figure 2.10: Secondary Education in the Asia-Pacific
Figure 2.11: Tertiary Education
TERTIARY EDUCATION
STRUCTURAL REFORMS
STRUCTURAL REFORMS AND THE TRADE AGENDA
Figure 2.12: Priority Structural Reforms for Future Growth
Figure 2.13: Structural reform for progressing liberalization, facilitation and expansion of agricultural trade
Figure 2.14: Structural reform for progressing liberalization, facilitation and expansion of services
BOX 1 - INTERVIEW WITH ANTHONY VIEL, CEO FOR DELOITTE CANADA AND CHILE, AND RICARDO BRIGGS, REGIONAL MANAGING PARTNER FOR DELOITTE CHILE
TOWARDS A UNIFIELD ASIA- PACIFIC DIGITAL MARKET
Figure 2.15: Should APEC Set a Goal of a Unified Asia-Pacific Digital Market?
Figure 2.16: Digital Economy Issues for the Asia-Pacific
CROSS BORDER DATA FLOWS AND PRIVACY PROTECTION
Figure 2.17: APEC needs to build more momentum to ensure the freedom of cross-border data flows
Figure 2.18: APEC should work to develop a common approach for the protection of privacy
PATHWAYS TO A FREE TRADE AREA OF THE ASIA - PACIFIC
Figure 2.19: APEC should develop common priorities and responses by members on critical issues associated with related technologies such as artificial intelligence (AI), robotics, block-chain, and quantum computing, as well as other path-breaking technologies
Figure 2.20: How to achieve the FTAAP
Figure 2.21: The completion of the ongoing RCEP negotiations and its expansion to include all APEC members
Figure 2.22: Expanding the membership of the CPTPP to include all APEC members
PRIORITY ISSUES FOR THE ASIA - PACIFIC TRADE AGREEMENTS
MEETING THE BOGOR GOALS
Figure 2.23: What should be the priority issues for Asia-Pacific free trade agreements and an eventual Free Trade Area of the Asia-Pacific?
Figure 2.24: Have APEC Industrialized Members met the Bogor Goals?
Figure 2.25: Have APEC Developing Members met the Bogor Goals?
Figure 2.26: Perceptions of APEC Over Time
BOX 2 - NEXT GENERATION VIEWS ON APEC BEYOND 2020
CONCLUSION
VI CHAPTER 3: INDEX OF CONNECTIVITY IN THE ASIA-PACIFIC
Figure 3.1: Conceptual Framework
CONNECTIVITY INDEX RESULTS
Figure 3.2: Connectivity in the Asia-Pacific
Figure 3.3: Connectivity and Income per Capita
Table 3.1: Income Group Definitions
PHYSICAL CONNECTIVITY
Table 3.2: Components of the Physical Connectivity Pillar
Figure 3.4: Physical Connectivity and GNI per capita
Figure 3.5: Physical Connectivity in the Asia-Pacific: High Income Economies
Figure 3.6: Physical Connectivity in the Asia-Pacific: Upper Middle Income Economies
Figure 3.7: Physical Connectivity in the Asia-Pacific: Lower Middle-Income Economies
INSTITUTIONAL CONNECTIVITY
Table 3.3: Components of the Institutional Connectivity Pillar
Figure 3.8: Institutional Connectivity and GNI per capita
Figure 3.9: Institutional Connectivity in the Asia-Pacific: High Income Economies
Figure 3.10: Institutional Connectivity in the Asia-Pacific: Upper Middle Income Economies
Figure 3.11: Institutional Connectivity in the Asia-Pacific: Lower Middle-Income Economies
PEOPLE TO PEOPLE
Table 3.4: Components of the People-to-People Pillar
Figure 3.12: People-to-People Connectivity and GNI per capita
Figure 3.13: People-to-People Connectivity in the Asia-Pacific: High Income Economies
Figure 3.14: People-to-People Connectivity in the Asia-Pacific: Upper Middle Income Economies
Figure 3.15: People-to-People Connectivity in the Asia-Pacific: Lower Middle Income Economies
CONCLUSIONS
Annex 1: PECC Connectivity Index Results
Table: Physical
Table: Institutional
Table: People-to-People Pillar
Table: Physical connectivity
Table: Institutional connectivity
Table: People to people connectivity
Table 1: GDP Growth (year-on-year %)
Table 2: Table 2: CPI Inflation (year-on-year %)
Table 3: Growth of Exports of Goods and Services (year-on-year %)
Table 4: Growth of Imports of Goods and Services (year-on-year %)
Table 5: Current Account Balance (% of GDP)
Table 6: Table 6: GDP & CPI Weights (% of total)
Table 7: Trade Weight (% of total)
VIII ANNEX B: RESULTS OF ASIA-PACIFIC POLICY COMMUNITY SURVEY
GOVERNMENT
BUSINESS
NON-GOVERNMENT: RESEARCH COMMUNITY/CIVIL SOCIETY/MEDIA
RESPONDENT BREAKDOWN
BREAKDOWN OF RESPONDENTS BY SECTOR
BREAKDOWN OF RESPONDENTS BY SUB-REGION