State of the Region 2020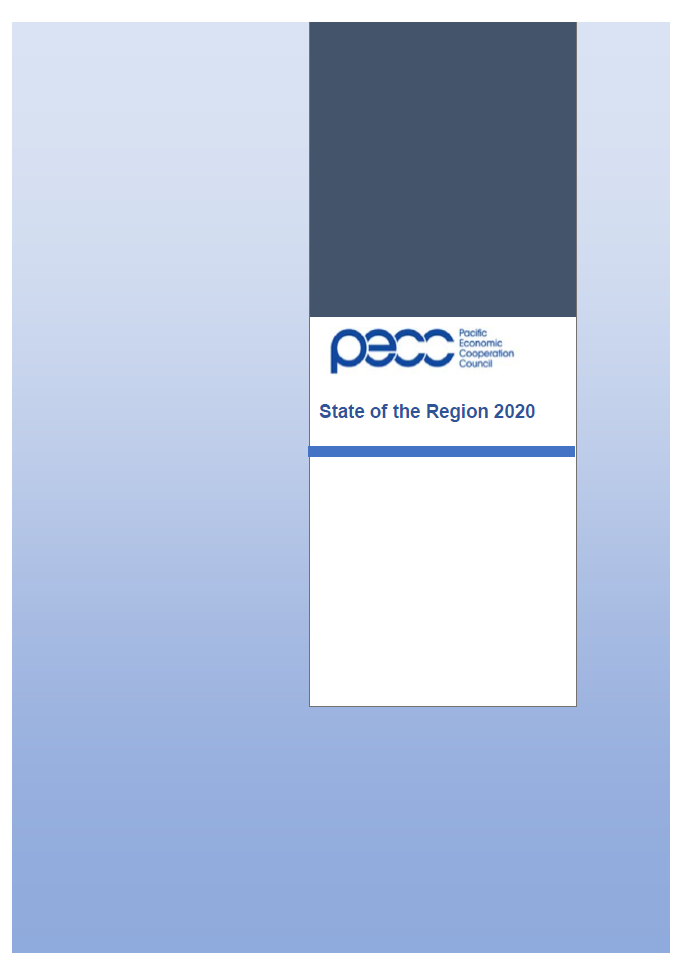 On behalf of the members of the Pacific Economic Cooperation Council (PECC), it is our pleasure to present our fifteenth annual report on the State of the Region. The State of the Region report is a product of a taskforce established by the governing body of PECC. While efforts are made to ensure that the views of the PECC members are taken into account, the opinions and the facts contained in this report are the sole responsibility of the authors and editorial committee and do not necessarily reflect those of the member committees of PECC, nor their individual members.

Download:

State of the Region Report 2020


Press Releases:
CONTENT


I MESSAGE FROM THE CO-CHAIRS OF PECC
II CHAPTER 1: IMPACT OF THE COVID-19 CRISIS UPDATE
ECONOMIC OUTLOOK
Big gains, big challenges
Stimulus Measures
Impact on Income Inequality
The External Sector
Current WTO Challenges and APEC's Role
The Covid Context for Regional Economic Integration
International Travel
Investment
FDI Inflow Trends
Digital sector
THE EVOLUTION OF THE PANDEMIC
Vaccine development
Information Sharing and Minimizing Supply Chain Disruptions
CLIMATE CHANGE
Finance for Sustainable Development
CONCLUSIONS
III CHAPTER 2: THE NEW GENERATION OF 'DIGITAL' TRADE AGREEMENTS: FIT FOR PURPOSE?
THE NEW 'DIGITAL' TRADE AGREEMENTS
TABLE 1: CONTEXT AND KEY PROVISIONS OF FOUR DIGITAL TRADE AGREEMENTS
SIMILARITIES IN 'DIGITAL' TRADE LANGUAGE: A PATH FORWARD?
Table 2: Comparison of Key Digital Trade Provisions
Table 3: Key and Developing Language Across Digital Trade Agreements
DIFFERENCES IN DIGITAL TRADE LANGUAGE
NEW 'DIGITAL' TRADE AGREEMENTS: A WAY FORWARD, A FALSE START, OR A DEAD END?
Table 4: Definitional Gaps Across Digital Trade Agreements
APPENDIX 1: COMPARISON OF LANGUAGE FOR ELEVEN COMMON PROVISIONS ACROSS THE FOUR AGREEMENTS