Amidst global trade slowdown and rising protectionism, APEC economies face a potential threat of backsliding on the progress in trade liberalization and regional integration under the Bogor Goals. In response, APEC leaders have set out to establish "a seamlessly and comprehensively connected and integrated Asia-Pacific" by 2025 through the APEC Connectivity Blueprint, with a mid-term review to be conducted by officials by 2020. The 'APEC Connectivity Framework' first emerged in 2013 and was further developed into the Blueprint for formal endorsement at the Leaders' Meeting in Beijing the subsequent year. It comprises a set of agreed initiatives and targets under the physical, institutional and people-to-people connectivity pillars that APEC leaders have committed to accomplish with the view to bring the APEC region closer together and strengthen economic integration.
Connectivity is a broad term which can potentially encompass everything from improvements in energy grids, transportation networks and digital infrastructure to trade facilitation. Recognizing multi-dimensional aspect of connectivity, the APEC Connectivity Blueprint stays away from defining the term directly and explains it as consisting of physical, institutional and people-to-people elements. According to the Blueprint, the overarching goal of the APEC Connectivity Agenda is to strengthen physical, institutional and people-to-people connectivity by taking agreed actions and meeting agreed targets by 2025, with the objective of achieving a seamless and comprehensively connected and integrated Asia-Pacific.
The APEC Leaders defined the three pillars as below:
Physical connectivity involves improving supply chain performance, connects and integrates logistics, transport, energy and telecommunication infrastructure in the APEC region.
Institutional connectivity refers to advances in regulatory and procedural cooperation and coherence among APEC economies.
People-to-people connectivity involves improvements in interaction, mobility and joint endeavors in people movement among APEC economies.
While the Blueprint sets ambitious targets to realize its vision and provides a high-level framework to organize the relevant work streams, it would need to include measurement methods, monitoring and evaluation strategy to be able to claim what progress APEC has made toward achievement of these goals. In this respect, PECC has undertaken to develop a new composite index to assess the state of connectivity among APEC members, and between APEC/PECC economies and the rest of the international community.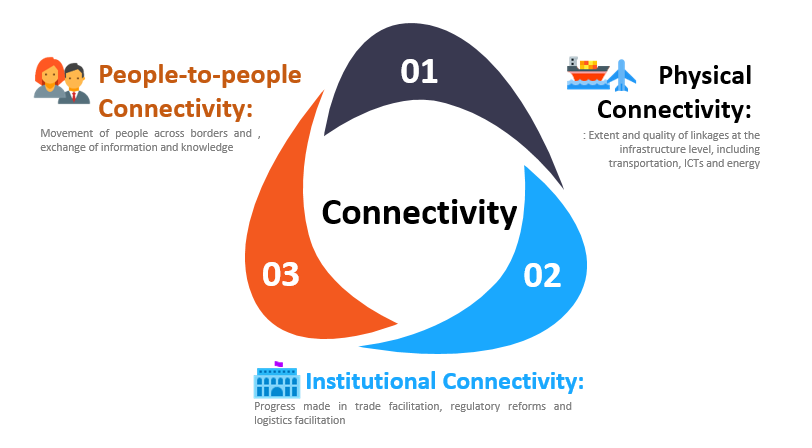 The project is carried out in two phases:
• Phase 1: Conceptualization and Design of the Connectivity Index (first half of 2017)
• Phase 2: Development of the Connectivity Index (second half of 2017)
The composite index will be updated every two years and serve as a basis for some specific policy recommendations. The PECC Connectivity Index is intended to contribute to APEC's ability to assess and track progress of APEC economies towards fulfilling the connectivity vision set out in the Blueprint.