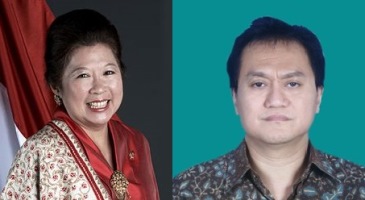 Dr. Mari Pangestu and Dr. Yose Rizal Damuri have been appointed as the co-chairs for INCPEC (Indonesian committee for PECC), succeeding Dr. Djisman Simandjuntak following the meeting of the Indonesia National Committee for Pacific Economic Cooperation held on April 12th, 2017.
Professor Mari Pangestu served as Indonesia's Minister of Trade from 2004 to 2011, and as Minister of Tourism and Creative Economy from 2011 until October 2014. She obtained her bachelor's, master's and doctor HC degrees from the Australian National University (ANU), and a PhD from the University of California, Davis, where she specialized in macroeconomics and international trade. Prior to becoming a minister, she was one of Indonesia's well-known economists working in various areas of international trade, financial sector, macroeconomics and policy reforms at the University of Indonesia and Centre for Strategic and International Studies (CSIS) Indonesia, as well as being a consultant to many international organizations. She also served as the Coordinator for Trade Policy Forum of PECC, Davos World Economic Forum, Boao Forum for Asia, Asian Economists Panel and many other international leadership forums. She has also served on various company boards such as Astra International. Currently she is a Professor of International Economics at the University of Indonesia and Senior Fellow at the CSIS.
Dr. Yose Rizal Damuri is the Head of the Department of Economics at the CSIS, Indonesia. His research activities focus on international trade, regional integration and globalization of value chain. He is active in several research and advisory networks within Indonesia and across East Asia, such as Indonesia Service Dialogue (ISD) and Asia-Pacific Research and Training Network on Trade (ARTNeT). Yose teaches international economics courses at the University of Indonesia. He occasionally writes in local and national newspapers. He received his bachelor of economics from the University of Indonesia and a master in economics of development (MEcDev) from the ANU. He received his PhD in international economics from the Graduate Institute of International Studies (HEI), Geneva, Switzerland.