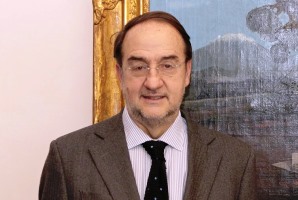 Ambassador Alfonso de Maria y Campos has been appointed as the new General Coordinator (Standing Committee member for PECC) for MXCPEC. He takes over the position from Ambassador Alejandro Madrigal since January 2016, and is currently the Director General for Asia-Pacific at the Mexican Ministry of Foreign Affairs.
Ambassador de Maria y Campos completed undergraduate studies in Law and Political Science at the National Autonomous University of Mexico (UNAM), from 1969 to 1974. He majored in Latin American studies and pursued graduate studies in History at the University of Cambridge, England from 1974 to 1977. He was a full-time professor at the Autonomous University of Mexico (UNAM), where he taught History. He also taught "History of Economics" at the Mexican Technological Autonomous Institute (ITAM), for the masters' program in economics from 1984 to 1985.
Prior to his current position, from May 2013 to October 2015, he served as Director General of the Matías Romero Institute the Diplomatic Academy and as Director General of the National Institute of Anthropology and History (INAH) from December 2006 to December 2012. He joined the Ministry of Foreign Affairs (SRE) in 1988 as Director General of Cultural Affairs. He was appointed Director General for Europe in 1993. He was appointed as the Mexican Consul General in San Francisco, California in March 2004 and was conferred the rank of an ambassador in April 2005.