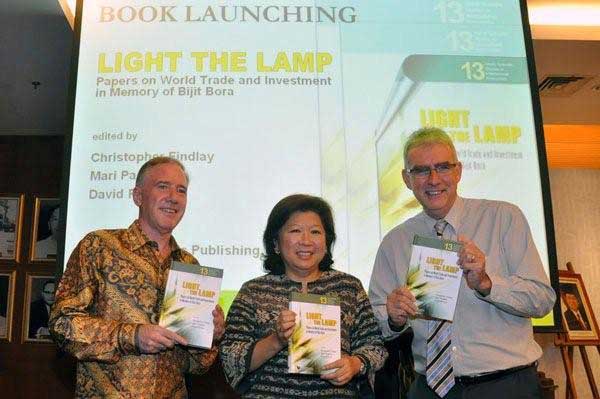 Indonesian Minister of Trade, Her Excellency Dr. Mari Pangestu, is the co-editor of a new book Light the Lamp: Papers on World Trade and Investment in Memory of Bijit Bora. The book was launched in Jakarta on 21 July 2010. Co-editors are Christopher Findlay and David Parsons.
Bijit Bora, a staff of World Trade Organization (WTO), was a long-time contributor to the work of PECC, especially to the Trade Forum and to PECC's work on investment. He died suddenly in 2006 aged 45 and this collection of papers covers the main topics of his research interests. The papers include applied analysis of questions of policy in international trade in fields related to Bora's interests, including foreign direct investment, trade in services, competition policy, and trade and development. It contains previously unpublished papers by Bora on the impact of the WTO. The volume also includes a paper by Dr. Pangestu on the future of world trade policy, which is based on her speech to the PECC GM in Washington in May 2009. Other contributors include Shujiro Urata, Kym Anderson, Richard Pomfret and David Round.
Contents:
The Future of World Trade Policy
Evaluating the Impact of the WTO Information Technology Agreement
Economic Analysis and WTO Arbitration Cases
The Impact of Manufacturing Protection on Agricultural Incentives in Australia
India and the Global Demand for Commodities: Is there an Elephant in the Room?
Foreign Direct Investment in China: Trends, Characteristics and Impacts
The Changing Patterns of Trade and Investment in East Asia
The Integration of the Electronics Sector in ASEAN
Regional Value Chains and Asian Regionalism
Recent Developments in the Literature on Foreign Direct Investment and Labour Markets
Competition Policy in International Airline Markets: An Agenda and a Proposed Solution
Readership: International trade analysts, trade policy advisers, staff of international organizations, university lecturers in schools of business and economics, students in courses on international trade and development.
The book can be ordered here