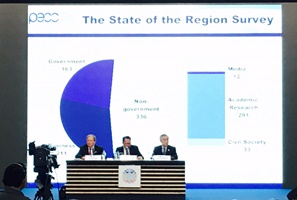 The Asia-Pacific Leaders gathered in Manila for the annual summit should focus their discussions on ways to ensure that more people are part of growth in the region, according to PECC survey of opinion-leaders, results of which were released at a press briefing on November 16th 2015 in Manila, during the APEC Leaders' Week. According to the State of the Region 2015-2016 report, the region will grow at 3.2 percent this year, the slowest rate since the Global Financial Crisis of 2008-2009.
According to Asia-Pacific opinion-leaders who participated in the annual PECC survey, the top five risks to growth in the region are:
- A slowdown in the Chinese economy
- Failure to implement structural reforms;
- Lack of political leadership;
- A slowdown in the US economy; and
- Lack of adequate infrastructure.
The PECC annual survey was conducted during 21 September-16 October 2015, drawing responses from 710 individuals.
Some key questions covered in the survey were:
1) What are the biggest risks to growth?
2) How important are the following areas of structural reform to the future growth of your economy?
(e.g. education and labor; infrastructure; regulation; rule of law; etc.)
3) How do you assess the political environment for freer trade in the coming five years?
4) What should be the top priorities for APEC Leaders to address in Manila?
The State of the Region report is an annual statement of PECC's views on the major developments affecting Asia-Pacific regional cooperation. The report contains a broad overview of economic state of relations and other issues as they relate to economic state of the region. It contains results from its annual survey of opinion-leaders of perceptions on key developments in the region and priorities for APEC. It is useful for gauging converging as much as diverging perceptions of stakeholders from business, government, and the research/ media/ civil society. The Report also includes an update to the index of regional economic integration which tracks de facto integration of each Asia-Pacific economy with the region based on various criteria.