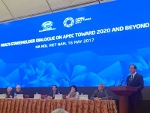 The Multi-stakeholder Dialogue on APEC Toward 2020 and Beyond was co-organized by Vietnam APEC SOM Chair's office and PECC. The event was attended by about 300 participants including APEC Senior Officials, other representatives from member economies, academia, businesses, regional and international institutions. The Dialogue is a follow up to the APEC Leaders' Lima Declaration made in November 2016 to start "a series of high-level dialogues on APEC Toward 2020 and Beyond."

H.E. Tran Dai Quang, the President of Vietnam, opened the Dialogue and shared his vision of a peaceful, dynamic, inclusive, seamless, and people and business-centered Asia–Pacific Community in the 21st century.

Mr. Pascal Lamy, chair of the French committee for PECC (FPTPEC) and former Director General of the WTO reminded that realizing open trade is a painful process but that the governments should place more focus on social inclusion in order to mitigate the negative impact of open trade and globalization. Various effects of globalization is permeating our societies not just more widely but also more profoundly. He urged APEC to 1) resist protectionist pressures, 2) keep opening up trade, and 3) address public concerns about trade head on.

Dr. Mari Pangestu, co-chair of the Indonesian committee for PECC (INCPEC) and former trade minister of Indonesia said that the governments must become more responsive and responsible. As the pace of technological advancement intensifies, we need to be more mindful of the potential widening of digital divide and further inequality. As the deadline of Bogor Goals approches, APEC needs to rethink its structure and leadership, deliebrate on the next set of goals, and continue to be an incubator of ideas. There is optimism in the next generation and we need to better harness this energy by involving youth more actively.
---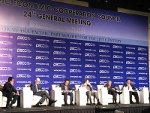 24th PECC General Meeting 'Vision for an Asia-Pacific Partnership' took place in Hanoi to coincide with a series of workshops and policy dialogues in the lead up to the APEC meeting for ministers responsible for trade (MRT).

What are the key challenges and opportunities for the future of the Asia-Pacific partnership? Are current processes sufficient for dealing with the reality of deeper trade and integration in the region? What role should the region be playing in global leadership now and beyond 2020? How can the next phase of growth be made more inclusive, sustainable and innovative, taking into consideration digital revolution? These were some of the issues deliberated at the 24th PECC General Meeting (full program agenda with presentations for download) which drew about 150 guests including PECC members and local guests.

H.E. Pham Binh Minh, Deputy Prime Minister of Vietnam, in his opening remarks, shared his vision "to build a peaceful, dynamic, resilient, inclusive, comprehensively connected and integrated Asia-Pacific community, which gives equal access and opportunities for all." He underscored that "major drivers should include structural reform, new technologies, especially digital advances, e-commerce, digital trade, quality human capital, competitive and innovative MSMEs, economic, financial, and social inclusion."
[download full speech]

Open trade can work but must be accompanied by public support for such openness with adequate social policies in order for economic growth to be sustainable in the 'new world of trade,' stressed Pascal Lamy, Chair of the French – Pacific Territories - committee for PECC and former Director General of the World Trade Organization (WTO). Another feature of the new world of trade is the growing importance of working with non-trade measurements (NTMs) in contrast to the 'old world of trade' where much of the focus was on lowering tariffs which will matter less and less. While international trade theory is still relevant, we need to do more to eliminate the differences in domestic regulations.

While free and open trade has contributed to alleviation of poverty and raising the standard of living throughout the Asia-Pacific region, we need to address the problem of inequality in the region.

"There is also emergence of a new digital divide in terms of access to these new services and hollowing out," said Dr. Mari Elka Pangestu, co-chair of the Indonesian committee for PECC and former trade minister of Indonesia. She added that in order to reduce digital divide, there is the need to enable and facilitate utilization of digital tools and information through education that could heighten the digital literacy for all.
"As we approach the deadline for the Bogor Goals, APEC is at an inflection point, said Dr. Charles E. Morrison, former Co-chair of PECC and distinguished senior fellow at the East-West Center. He suggested that APEC develop a growth-oriented 'Asia-Pacific Partnership (APP)' to rebrand and "give primary emphasis to economic growth, jobs, equity, and sustainability dimensions: physical infrastructural development, human resource development, finance, innovation systems, SME opportunities." Secondly, he said, we should bring "those voices into the regional cooperation that are not now heard enough to be true stakeholders."
---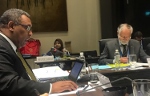 The annual Standing Committee meeting of PECC took place in Hanoi, Vietnam, on the eve of the 24th PECC General Meeting. The SC representatives reviewed work in progress and considered new project proposals. The three signature projects underway are: 1) State of the Region report; 2) Asia-Pacific Connectivity Index; and 3) APEC Beyond 2020.

APEC Senior Official for Papua New Guinea, Ambassador Ivan Pomaleu addressed the Standing Committee members of PECC in Hanoi, Vietnam. As the host economy of APEC in 2018, he said the PNG government will focus on the following four priorities:
Connectivity and regional economic integration - including FTAAP, global value chains and unfinished business and emerging issues beyond the Bogor Goals and 2020
Sustainable and inclusive growth - including natural disaster resilience, climate change, MSMEs, women empowerment, food security, and the blue economy
Structural reforms
Human capital development and capacity building, inclusive education.
---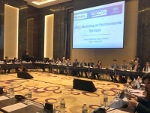 APEC Policy Support Unit, Japan METI (Ministry of Economy, Trade and Industry), and PECC co-organized a one-day workshop on environmental and energy services with various industry experts and related business representatives from both large multinational corporations such as Veolia Environment (France) and Nalco (US) as well as smaller international companies such as Natel Energy (US) and Barghest Building Performance (Singapore).

This workshop/ trade policy dialogue follows from APEC's ongoing work on Environmental Services Action Plan (ESAP) that was endorsed in 2015 in the Philippines. The main purpose of the workshop was to discuss trends, challenges, value creation, and business models found in specific industries that comprise environmental services.

Starting with speakers from the WTO and OECD, who provided the background on the classification of environmental goods and services, the following five sessions covered: 1) water business; 2) refuse disposal and recycling; 3) remediation; 4) renewable energy; and 5) energy efficiency.

Mr. Andrew Martin, the Chair of WTO Environmental Goods Agreement (EGA) negotiations from the Department of Foreign Affairs and Trade of Australia participated in the concluding panel discussion.

Full program agenda and presentations are available here for download.
---
UPCOMING EVENTS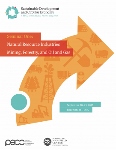 Many PECC economies depend upon revenue from natural resource utilization. This includes a wide range of primary and secondary industries involving forestry, mining, and oil and gas development. Natural resource extraction and the value of these commodities can represent significant percentages of GDPs. However, growing concern over climate change, biodiversity, and human health impacts has resulted in an increasingly complex set of domestic and international government regulations, interventions, and analyses concerned with enforcing sustainable environmental policy.
Given these dynamic factors, the first seminar will bring together government, research, business and technology leaders who are pioneering innovative solutions to achieve economic performance within regional, national, and international sustainability policy frameworks. This expert group will share their ideologies, best practices, and experiences on achieving economic objectives within the context of an increasingly challenging global regulatory framework. Specifically, this group will address circular economic capacity in the context of their respective industries and the reality of achieving sustainability goals.
This group will explore these topics against active international conversations, negotiations, and endorsements of the 2016 Paris Agreement on Climate Change. This important milestone set into motion of range of sustainability goals and objectives that impact global economic – ecological systems and the inhabitants of these interconnected systems. Seminar participants will be challenged to analyze, discuss and share real-world examples of circular economic features that meet or exceed Paris Agreement goals and process improvements. This discussion will be conducted with the shared realization that increased dialogue, discussion, and proactive measures will be indispensable to achieve these goals.
This first seminar will be organized in Bozeman, Montana (United States) jointly with the Maureen and Mike Mansfield Center at the University of Montana on September 20-23, 2017.
---
MEMBER COMMITTEE UPDATES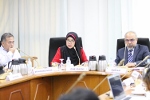 The inaugural Malaysia National Committee for Pacific Economic Cooperation (MANCPEC) Roundtable on Asia-Pacific Economic Cooperation (APEC) Post-2020 Agenda was held on Tuesday, 2 May 2017, at the Institute of Strategic and International Studies (ISIS) Malaysia, Kuala Lumpur. Around 30 individuals representing government, businesses, business associations, think tanks and academia attended the Roundtable, with majority being MANCPEC members.

The main purpose of the Roundtable is to brainstorm ideas on APEC goals beyond year 2020 and look at relevant questions on the future of APEC. At the Roundtable, two distinguished speakers were Datin Che Mazni Che Wook, APEC Senior Official for Malaysia from the Ministry of International Trade and Industry (MITI) and Dato' Muhamad Noor Yacob, Former APEC Executive Director. Dato' N Vasudevan, Former APEC Senior Official for Malaysia and Dato' Ramesh Kodammal, Member of ASEAN-BAC were the discussants at the Roundtable.

Datin Che Mazni highlighted three ways for APEC to move forward: 1) Continue with the Bogor Goals of achieving "free trade and investment" until 2020; 2) Expand the Bogor Goals beyond 2020 e.g. include digital economy; and 3) Realize Free Trade Area of the Asia Pacific (FTAAP). Apart from addressing protectionist and anti-globalisation concerns, the participants also discussed the importance of fostering the participation of Micro, Small and Medium Enterprises (MSMEs) in the regional and global market. Emerging issues such as factory reconfiguration, resulted from the Fourth Industrial Revolution, were also raised. Finally, in streamlining the efforts towards achieving APEC post-2020 goals, the issue of proliferation of fora must also be addressed.

Download program agenda
---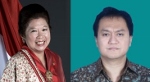 Dr. Mari Pangestu and Dr. Yose Rizal Damuri have been appointed as the co-chairs for INCPEC (Indonesian committee for PECC), succeeding Dr. Djisman Simandjuntak following the meeting of the Indonesia National Committee for Pacific Economic Cooperation held on April 12th, 2017.

Professor Mari Pangestu served as Indonesia's Minister of Trade from 2004 to 2011, and as Minister of Tourism and Creative Economy from 2011 until October 2014. She obtained her bachelor's, master's and doctor HC degrees from the Australian National University (ANU), and a PhD from the University of California, Davis, where she specialized in macroeconomics and international trade. Prior to becoming a minister, she was one of Indonesia's well-known economists working in various areas of international trade, financial sector, macroeconomics and policy reforms at the University of Indonesia and Centre for Strategic and International Studies (CSIS) Indonesia, as well as being a consultant to many international organizations. She also served as the Coordinator for Trade Policy Forum of PECC, Davos World Economic Forum, Boao Forum for Asia, Asian Economists Panel and many other international leadership forums. She has also served on various company boards such as Astra International. Currently she is a Professor of International Economics at the University of Indonesia and Senior Fellow at the CSIS.

Dr. Yose Rizal Damuri is the Head of the Department of Economics at the CSIS, Indonesia. His research activities focus on international trade, regional integration and globalization of value chain. He is active in several research and advisory networks within Indonesia and across East Asia, such as Indonesia Service Dialogue (ISD) and Asia-Pacific Research and Training Network on Trade (ARTNeT). Yose teaches international economics courses at the University of Indonesia. He occasionally writes in local and national newspapers. He received his bachelor of economics from the University of Indonesia and a master in economics of development (MEcDev) from the ANU. He received his PhD in international economics from the Graduate Institute of International Studies (HEI), Geneva, Switzerland.
---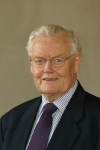 Mr. Brian Lynch succeeds Mr. Denis McNamara as the new chair of NZPECC (NZ committee for PECC).

Mr. Lynch is a graduate of Canterbury University with double masters degrees. He was a member of the New Zealand diplomatic service from 1964 to 1981. He served in New York (United Nations), Singapore, and London missions.

Following ten years as Deputy Secretary of Transport, he was chief executive for eleven years (1992-2003) of the New Zealand association of meat companies. He was the founding chair of the Trade Liberalisation Network (now the New Zealand International Business Forum) and the New Zealand Food Industry Foundation. For nine years he was chair of a government statutory agency (Horticulture Export Authority) and board member for six years of another (New Zealand Meat Board). Between 2004 and 2013, he was chair and a board member of three non-government/not-for-profit organizations in the refugee, creative arts and service club sectors.

During 2003-2012, Brian was Executive Director of the New Zealand Institute of International Affairs (NZIIA) and was made a life member in 2012. He chairs Education Wellington International and the Wellington branch of the NZIIA, and is a Member of the Institute of Directors. He was the New Zealand alternate member of the APEC Business Advisory Council from 2004 to 2009, and since 2013, has been a Senior Fellow at the Centre for Strategic Studies, Victoria University of Wellington. In 2004 Mr Lynch was made an Officer of the New Zealand Order of Merit (ONZM).
---
PUBLICATIONS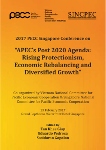 The Singapore National Committee for Pacific Economic Cooperation (SINCPEC) and the Vietnam National Committee for Pacific Economic Cooperation (VNCPEC) co-organized PECC Singapore Conference titled "APEC's Post 2020 Agenda: Rising Protectionism, Economic Rebalancing and Diversified Growth" on February 13th, 2017. This is a full report of the conference.

The sessions focused on: 1) APEC in a changing global context; 2) micro competitiveness, inclusive and quality growth; 3) infrastructure connectivity and equitable economic development; 4) people-to-people connectivity; and 5) re-evaluating and reshaping the common resolve to the Bogor goals. Concerns about negative sentiments toward globalization, rising income inequality and the impact of disruptive technology resonated among the participants.
Download the entire publication (161 pages, pdf, 4.75 MB)
Presentations from the related conference
---